🇵🇭 The music stops for Cayetano
How the former Speaker finally lost musical chairs
Hello friends!
I'm trying so hard to resist a Game of Thrones headline. I've tossed up covering the Speaker of the House drama between the now-former Speaker Alan Peter Cayetano and now Speaker Lord Allan Velasco and their so-called 'term-sharing agreement'. But I think ultimately it's important to stay on top of politicking during such a devastating time so nothing sneaks by us. 
So, please read on if you're interested. And if you're not, tap that heart above so I know at least this hasn't just gone into a void! 
See you next week after my big exam UNLESS something big happens in Malaysia tomorrow. In which case, what exam?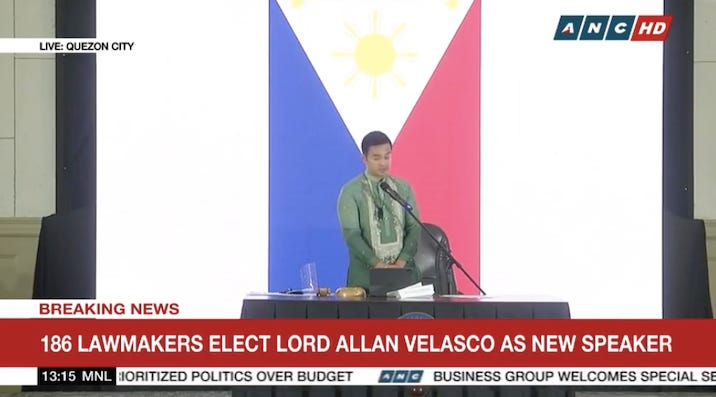 (Velasco claiming his chair as spotted on the ANC YouTube page by myself this afternoon)
The term-sharing agreement was brokered by President Duterte following the mid-term elections last year. It was agreed that Alan Peter Cayetano would take the speakership from July 2019 until this month at which point Velasco would take over for the remainder of the term. Cracks began to appear within months of the unsteady agreement. 
"A gentleman's agreement is a gentleman's agreement. Based on the gentleman's agreement, I will see you next year as the next Speaker of the House," Velasco told CNN Philippines in November amid chatter that Cayetano had no intention of going anywhere. 
It's all come to a head last week as Cayetano should, per the agreement, be readying to hand it all over to Velasco. Hold up, says Cayetano. This agreement was made before the pandemic and what we need right now is to right the ship, we'll get to it later. Which would be more plausible if he didn't force the suspension of Congress until next month, leaving the budget — more important than ever — hanging in the balance (check further reading for more). President Duterte eventually stepped in on the front, saying Saturday that a special session must be held in the coming week to deal with the budget. That intervention was widely read as an additional rebuke of Cayetano. 
This crucial piece from the Inquirer lays out what exactly happened, that Cayetano and his allies allowed the suspension of the session more than a week before it was due. At least one Velasco allied lawmaker alleges they were muted by the host of the Zoom session. "This is typical of a poor loser—If you're losing, flip the table, burn down the house, as they say," Buhay Rep. Lito Atienza told the Inquirer, among many other fantastic quotes. 
Cayetano had become increasingly desperate in recent days as allies abandoned him and it became clear how this was playing to other lawmakers and, more importantly, pandemic-suffering Filipinos. The President reportedly told Valesco last week: "The President was categorical when he said: 'Lord, it is your right time now. I have already spoken. You have to insist on your right based on the term-sharing agreement.'"
And so today! A remote House session held today saw 186 lawmakers vote for Velasco as Speaker. Post-Velasco speech, Cayetano held his own press conference in which it was clear he's not too stoked on having lost out. Given President Duterte seems to be on board with Velasco, I don't expect there to be too much of a scandal over all of this but I will certainly be keeping watch.   
For now, I'll leave you with Tonyo Cruz and his view: 
Further reading:
By clinging to power, Cayetano and his allies are also maximizing their chances of controlling substantial sums of pork-like allocations in the 2021 budget, which will be pivotal in the run-up to the next elections.
These House squabbles will leave very little time for the Senate to scrutinize and amend the budget bill before year end. Senators are unlikely to sacrifice their time. 

Hence, Congress will almost certainly fail to pass the 2021 budget on time, and the 2020 budget — which is smaller and emphatically not designed for the pandemic — will most likely be reenacted.

That's the very last thing Filipinos need. A reenacted budget will derail our economy's recovery — fraught and uncertain as it already is.
But I do draw the line when we Filipinos are being screwed in the process. After all, we pay for the salaries and perks of these congresspersons, and when they are given an unscheduled vacation, the cost to us is roughly P4 million per month, per idiot (borrowing from Mark Twain, who wrote "Suppose you were an idiot. And suppose you were a member of Congress. But I repeat myself"). For a 300-member Congress, that means Filipinos are spending P1.2 billion for the month's vacation. Waste upon waste.