Discover more from Dari Mulut ke Mulut
Southeast Asia is a big place - get across it.
Over 3,000 subscribers
🇮🇩 Heartache and Defiance in Jakarta
'Not everyone has the privilege to leave, and for those people, we have to fight'
Hello friends!
I am beyond thrilled to bring to you today an essay from Audris Candra, a queer Jakartan in their early 20s, on what the new criminal code means for them and their community.
The fighting spirit that comes through here is truly remarkable, electric. I think it's a taste of what is to come in the pushback to the deeply unpopular criminal code. Indonesia has a long history of strong-willed young people and this is one view from the next generation.
Have also extended the giveaway for a copy of Ben Bland's Man of Contradictions, a great overview of President Jokowi's rise to power. One ebook for paid subscribers and another for non-paid up for grabs!
Paid subscribers help support pieces like Audris Candra's. Thank you so much for that support and I am very proud to be able to give an excellent essay like this a platform to be read widely.
---
'A Tiny Win for the LGBT, a Huge Loss for Everything Else'
2nd December 2022. Mt. Semeru erupted, and as a spiritual mountain, we all should've taken it as a sign. The kings of ancient kingdoms certainly would've, but not our current government. They went on as usual to pass a list of criminal codes that had been protested heavily in 2019.
International news immediately rushed to report it, but the headlines focused on one thing and one thing only: that sex outside of marriage is about to be illegal in Indonesia. Foreign Twitter also reacted with a similar notion, with cries of despair of them being unable to have sex in Bali, dubbing it 'Bali bonk ban'. As always, their lens demeans and dehumanises us Indonesians. They don't see the whole reality. This law is that it can only be enacted if the family of the accused reports it — but what does this mean for survivors of sexual assault? What if the criminal is jailed, and the family blames the victim, and thus brings them to court as well? What if queerphobic family uses this to criminalise us LGBT people?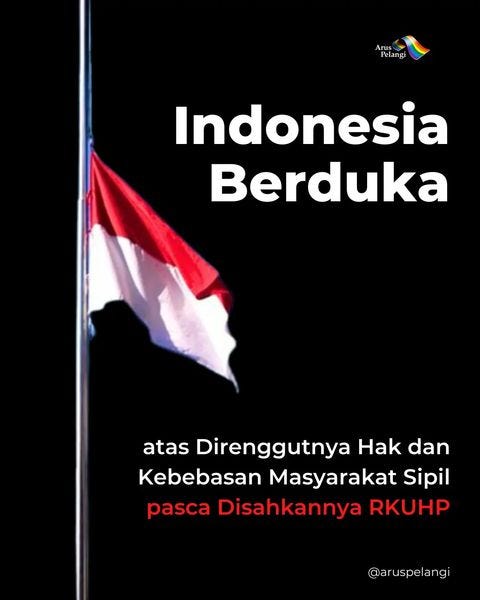 Another code that breaches our privacy is one that will criminalise cohabitation 'as husband and wife outside of marriage'. The wording for this code, as well as many of the rest, is vague. As Arus Pelangi put it: "gay people already can't get married, and now they want to punish us for cohabitation." Outside of queer communities, in Indonesia, it's common for people who can't afford to buy houses to rent one together or live in kos-kosan — small rooms in a boarding house.
The vagueness of the laws and the threat that they pose doesn't stop there. Pasal 597 stated that 'living law' now can be counted into the criminal code without specifying who decides it or what it is. Anyone can get caught for violating the "rules of society," and this is especially dangerous for us queer people. The majority of Indonesians already see us as deviants that disturb society, that somehow for being ourselves, we will destroy morals and religious values. This code will only give them fuel to incarcerate us for simply existing.
And things are much, much worse.
International news conveniently leaves out the rest of the laws:
How we won't be able to critique the President and the very government itself. Free speech is gone, and the very life of the press and the journalists are at stake.

How parades, convoys, and protests would earn people time in jail. Even more colonial than the Dutch, as tirto.id put it.

How education and promotion of contraception are going to be outlawed.

How learning about ideologies outside of Pancasila would be deemed criminal.

How they reduced the penalty for our dearest corruptors who eat away at our very country.
The list is long, and the damage is great. The only tiny, tiny victory we can find is that they didn't pass the law that would've made gay sex explicitly illegal. Not that it was an encouragement, because such a law shouldn't have been proposed in the first place. The fight isn't over yet, though.
Every Thursday since 18 January 2007, victims of human rights violations clad in black clothes march to Istana Negara, the President's official residence. Their demands are simple: for the government to acknowledge and investigate various human rights violations, from the mass killings of 1965 to the Semanggi tragedy, the shooting of Trisakti university students, the murder of the renowned activist Munir, and more.
To date, at least 750 protests have taken place, and all of this will be thrown away with the newest law. Purposefully or not, they didn't include the element of retroactiveness and didn't specify the statute of limitations. The government effectively washed their hands of all the past human rights violations, and possibly the ones in the future too.
Certain groups such as PKS (Partai Keadilan Sejahtera) still want us LGBT people gone. They kept pushing for the anti-gay sex law to pass, and they're loud about painting us as deviants and criminals. It's not impossible that suddenly there's an uprising and mass attacks against the LGBT. They already did that to us Chinese-Indonesians in 1998, and the government never acknowledged it as a human rights violation. Who's to say it won't happen again, and to the LGBT community this time? 
I don't blame my friends when they immediately spiralled into wanting to leave Indonesia. Move in with their relatives, and stay far, far away from the country that wants her people dead. As the hated queers of Indonesia, not only do we have to live in fear of public persecution and beatings and raids, but now we also have to watch our every move and pray that somehow we don't offend the wrong people. But not everyone has the privilege to leave, and for those people, we have to fight. 
On the 5th of December, Transschool Swara, an active community and school for trans femmes, went down to the streets. On Saturday, 10th of December LBH Yogyakarta rallied people to raise their voices. The protest every Thursday will always go on. There's an online protest on Instagram too. As of writing this, the council of university students have only released their statements against the code of law. In 2019, they spearheaded the massive protest that put a stop to this, and hopefully, we can do it again.
It's not over yet. We still have hope. We can still fight.