How Vietnam is getting it right
A look at COVID-19 numbers
Hello friends!
I am thrilled to have a newly commissioned piece for you here today. Mike Tatarski rightfully gets a lot of love here for his Vietnam Weekly newsletter, an invaluable resource in covering the country from city level incidents to an internal perspective of Vietnam on the world stage. 
Today, Mike talks us through Vietnam's COVID-19 response and why although the numbers seem too good to be true there are great reasons to trust them. 
I'm on the hunt for other brill writers/analysts/journalists from around the region so get in touch if this is you! 
All coronavirus coverage will remain free, but if you'd like to support this project or access the premium Monday edition join here for $6 a month or $60 for the year:
Stay safe and see you next week!
Erin Cook
---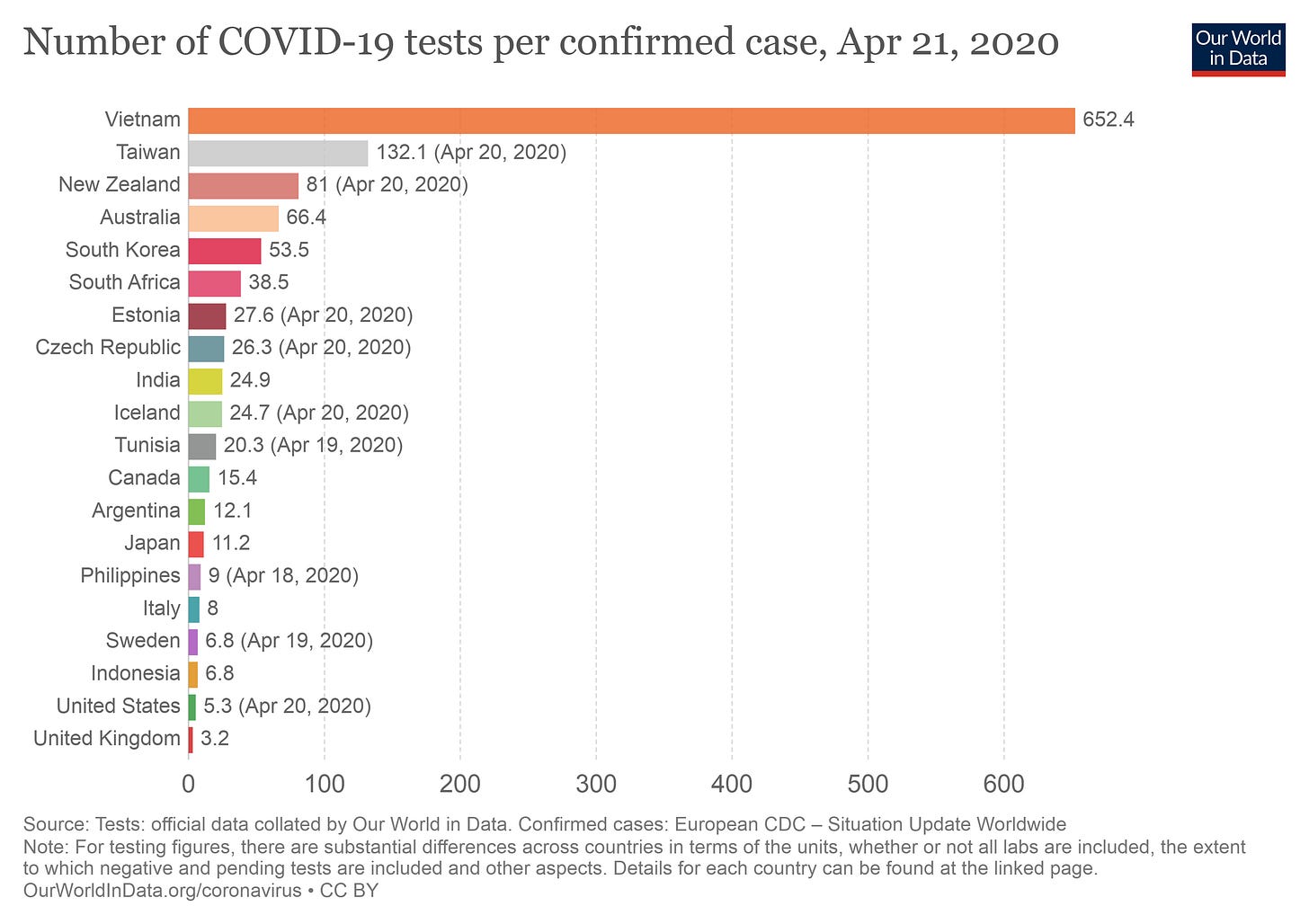 At first glance, one could be forgiven for scepticism. As the coronavirus pandemic deepens, with six countries now reporting over 100,000 cases, Vietnam, with a population of 96 million and a lengthy border with China, has 268 confirmed COVID-19 cases and zero associated deaths.
These figures have set off a range of reactions, from awe to dismissiveness. Many have credited warm weather with Vietnam's numerical success, although regional nations with an even steamier climate are dealing with far larger outbreaks.
Others say the numbers are fake, as a communist government and its media cannot be trusted – just look at how China tried to cover up the initial outbreak in Wuhan.
Such responses overlook the many decisive steps that the government has taken in response to the novel coronavirus.
On January 23, as Vietnam entered its Tet holiday, the Ministry of Health announced the first two COVID-19 cases. That same day, when there were just 7,700 confirmed cases in Wuhan, Vietnam's aviation authority cancelled all flights between the outbreak's epicentre. The National Steering Committee on COVID-19 Prevent and Control was established to coordinate Vietnam's outbreak strategy. 
On the 29th, airlines suspended flights from most Chinese provinces and began screening passengers for symptoms and quarantining those who displayed them. The following day, three workers who had returned to Hanoi from Wuhan became the first Vietnamese nationals to test positive for the coronavirus.
All flights between Vietnam and China ended on February 1 and the border was closed, snarling trade, while Prime Minister Nguyen Xuan Phuc declared a national epidemic, ordering schools not to re-open after the Tet holiday. Most have remained closed since, with a few small provinces finally resuming in-person classes this week. Following that, anyone who had transited through or recently visited China was quarantined for 14 days upon arrival, and by February 13, the country's caseload was 16. No more cases were detected until March 6, when a second wave of infections began, largely linked to flights coming from Europe.
In the meantime, the government had ordered all arrivals from South Korea, Iran and Italy to be quarantined, and throughout that month, as infections grew and clusters emerged in Hanoi and Ho Chi Minh City, progressively stricter travel restrictions were put in place.
On March 20, the granting of news visas was suspended, flights to ASEAN nations ended and all arrivals began to be quarantined for 14 days, while foreigners were banned from entry shortly afterward. 
On April 1, a 'national social distancing' campaign began, closing non-essential businesses while banning public gatherings larger than two people and mandating face masks in public places. Residential neighbourhoods have remained lively despite these rules. 
At that point there were 194 confirmed cases, with 75,000 people in quarantine, half in government facilities and the rest at home. 
Since peaking at 268 infections, no new cases have been detected in six days, while 214 have recovered, and social distancing regulations are being eased. Domestic flights are coming back online after being reduced to single digits. 
"That's the textbook approach," said Todd Pollack, an associate professor of medicine at Harvard Medical School and Hanoi-based country director of The Partnership for Health Advancement in Vietnam.
His team works with the health ministry on, among other issues, infection control in medical facilities, which became crucial when a cluster emerged at Bach Mai Hospital, one of Vietnam's largest. 
"It's the same strategy that they've been doing," Pollack said. "So you take the positive cases and isolate them, and then you contact trace everyone, whether it's five people or thousands, you have to track them all down, quarantine them, monitor them and test them." 
Contact tracing during the outbreak has been rigorous and detailed, with the health ministry naming specific flights, businesses, and times of day while calling on people to come forward if they were in these places.
At one point, health officials tested 5,000 people linked to Bach Mai, containing a situation that appeared to be out of control. 
Vietnam does not have the resources of South Korea, which quickly rolled out mass testing in order to determine the extent of its outbreak. The strategy here was to try and prevent the virus from entering the populace through immediate flight and quarantine restrictions and then deploy resources to confront local clusters, such as Bach Mai. 
As of this writing, the Ministry of Health has conducted 180,067 tests, a moderate number per capita, but given Vietnam's low case number, it has performed 652.4 tests per confirmed case, by far the most in the world. Taiwan is second, with 132.1 tests per confirmed case. 
Regarding Vietnam's infection numbers, Pollack said: "From what I've seen, and knowing that the WHO, US CDC and other international partners are in meetings with the ministry and visiting facilities, it's pretty hard to believe to that there's a large number of cases that are not being reported."
Government officials have acknowledged that there are infections in the country that have not been detected, as is the case in every country the virus has reached.
"In terms of the numbers being willfully suppressed, I don't see evidence of that," Pollack continued. "In Wuhan, it's been reported that the extent of the outbreak may have been intentionally kept quiet, but it's hard to keep this virus quiet. Eventually, you're going to have people coming to hospitals for medical care. It spreads quickly and causes significant illness in not an insignificant proportion of the people infected, and we don't see hospitals being overrun here. I think we can trust the numbers being reported by the Vietnamese government." 
Go follow Mike Tatarski's Vietnam Weekly here.